Super easy Paleo Spinach and Cheese dumplings
Paleo Spinach and Cheese Dumplings: A super easy and delicious italian meal or snack for the family and very portable to for lunchboxes or picnics.
LEAFIE'S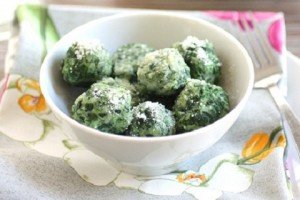 Dumpling Ingredients:
500g spinach
400g ricotta cheese
100g cheddar cheese
100g spelt flour
2 eggs
1 pinch of nutmeg
Sea salt
Sage butter ingredients:
100g butter or Tallow
A handful of sage leaves
Serves 4.
Prepare the spinach by blanching spinach in a shallow pan of hot water for approximately 3-4 minutes, drain and leave to cool, squeeze into a ball squeezing out excess liquid, then chop very finely.
Place chopped spinach into a bowl and then mix in the other ingredients including a generous few pinches of salt (to taste) until well blended.
Dust hands with flour and pat dough into small balls the size of a walnut shell and place into a flour dusted pan, sprinkle with flour and then toss in flour to ensure each are covered.
Place the dumplings into a large pan of salted boiling water and leave for approximately 5 minutes.  They are ready to be gently fished out when they float to the top.
Meanwhile make the sage and butter sauce by place in 4 table spoons of butter or Tallow into a pan and gently simmering with 8-10 sage leave to infuse with a delicate sage flavour.
Add the dumplings to the sage butter pan and fry gently, moving the dumplings around the pan to ensure that they are all coated.
Serve with crisped sage leaves and a sprinkle of parmesan and sea salt to taste. or with shaved parmesan and cherry tomatoes.
You can add other ingredients to strengthen the flavour, such as parmesan or diced pancetta and even experiment with the flour to best suit your family's preference.  I prefer the texture of spelt.
Enjoy!