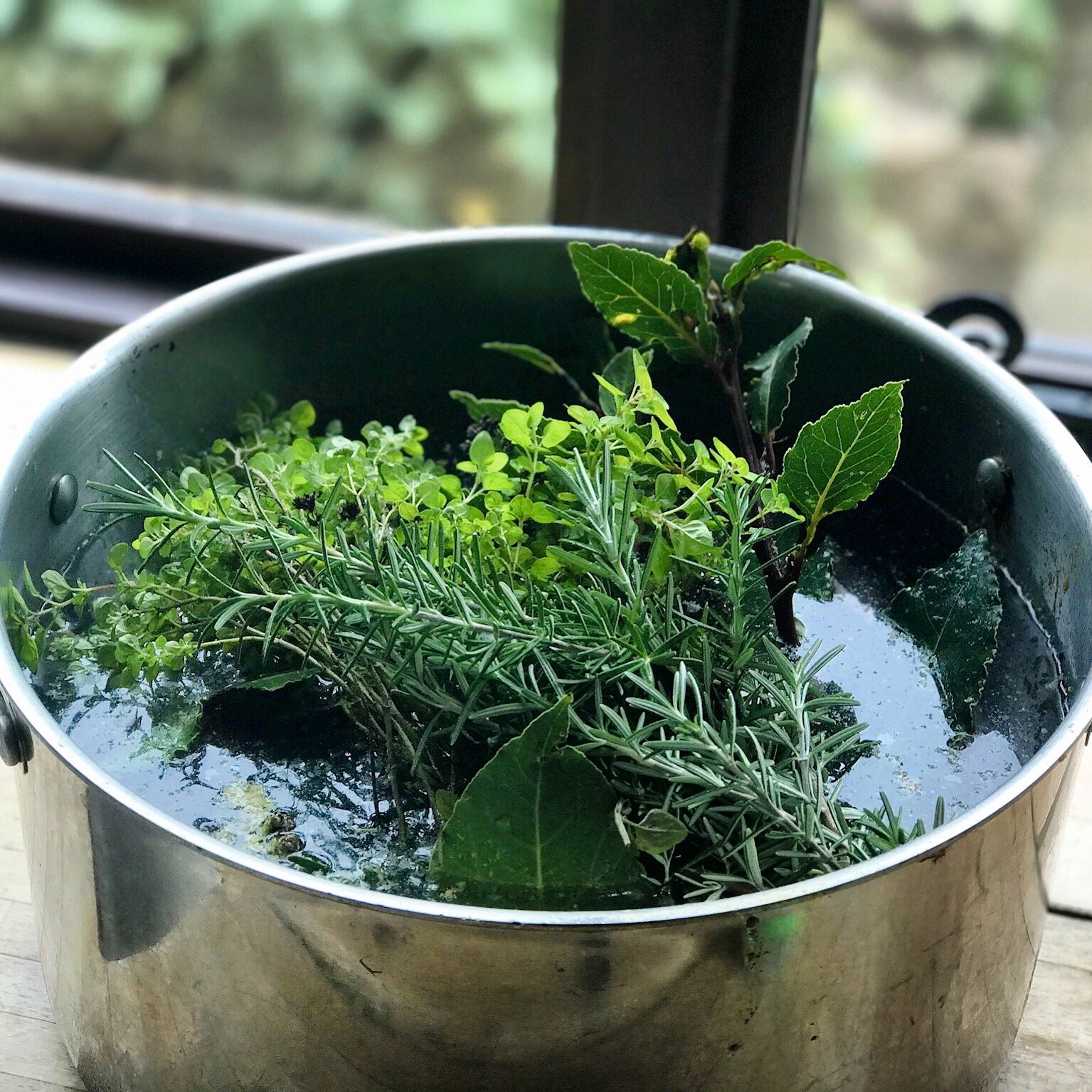 Organic Beef Marrow Bone Stock
Organic Beef Marrow Bone Stock
The mighty Organic Beef Marrow Bone Stock
Bone broths and stocks are amazing! They can be digestive aids that assist intestinal healing, skin repair, gut health, hair strength and immunity.


These steaming bowls of goodness are central to our Gut Health Food Plan and for good reason. We incorporate them as often as possible into our plan, using different recipes and even drinks.
Marrow bone stock should be made from well sourced high quality ingredients; free-range, grass-fed, organic well cared for stock. If you don't already, it's now time to get to know your local farmer or farmer's market stalls!
Why bone broths and stocks:



There are many health benefits associated with bone broths and stocks. A high quality well prepared stock will be rich source of nutrients and minerals , including:
Calcium, magnesium and important amino acids particularly arginine, glycine and proline.
Glycine supports digestion and the secretion of gastric acids, the body's detoxification process and is used in the synthesis of haemoglobin, bile salts and other naturally occurring chemicals within the body.
Proline, especially when paired with vitamin C supports good skin health.
Gelatine, which improves collagen, and is renowned for digestive and skin health support. 

Broth provides all of this goodness in an easy to assimilate form, meaning that it is easy to absorb and gentle on your digestive system.
Ingredients
2

kg

organic grass fed beef marrow bones

4

litres

filtered water

minimum

2

tbsp

organic apple cider vinegar

5

medium

organic onions

roughly chopped

1

bulb

organic garlic

peeled cloves

1

bunch

fresh bay leaves

1

bunch

fresh rosemary

1

bunch

fresh thyme
Instructions
Nutrition summary:




Calorie breakdown: 6% fat, 37% carbs, 57% protein.

Common Serving Sizes:

Serving Size Calories


1 oz

4 Calories




100 g

13 Calories

1 cup:
Calories 31
Fat 0.22g
Carbs 2.88g


Protein 4.73g




Prepare your raw bones by roasting for around 40 minutes on 180oC (370oF) 400 ° F or until the bones are browned. Roasting the bones improves the flavour, particularly in beef stock.

Once the bones are browned pour into your large slow cooker, stock or crockpot, making sure that you pour in of the marrow fat too.

Pour (filtered) water over the bones making sure that the bones are covered and bring to the boil.

Once you've brought the water to a boil turn down the temperature to simmer and add the apple cider vinegar, chopped onions and garlic and herbs.

Simmer for several hours, the longer the better, adding extra filtered water as needed.

When the stock is a golden colour with a shimmering surface from the fats turn the stove off and allow to cool. The stock should set just like gelatine, and the fat should rise to the top.

Ladle into storage containers and freeze or refrigerate until use, discarding the bones. Clear labelling and dating always helps.
Notes
Making your own stocks and broths is simple once you get into the habit of producing your batches, marrow bones are inexpensive too! 

Tip: Make a batch and freeze containers, so that you can use portions conveniently and frequently. Every autumn season I stock up my freezer with a variety of stocks and other savoury homemade nutrient dense soups and broths. I can then magically serve up a steaming bowl each day of delicious soup, adding in fresh herbs or additional chopped vegetables to adjust the flavour.

Some ways to use your broth:
A mug of soup during the day, even at breakfast time!
As a light starter before a meal.
As the stock for a soup, with blended low carbohydrate vegetables and added chicken or beef pieces for a meal.
Used as stock for a spicy asian soup, or rich seafood chowder.
Stew stock; by simmering organic chicken thighs until cooked through. Then adding chopped vegetables in the last minutes of cooking so that they are not over soft or sour; garlic, leeks, carrots, celery, cabbage, broccoli, turnip, brussels sprouts or ribbons of courgette.